For Teachers
The Challenge
Effective teachers write lesson plans that are incorporated into a weekly schedule. This principle is attainable, but every teacher knows it requires practice, diligence and time. The effort to make a weekly plan in addition to the investment into the actual writing of the lessons is a commitment at every grade level. Access on how to make this process easier and more workable will guide teachers to be more effective.
Weekly plans
A weekly plan has many benefits. It helps the teacher accomplish each lesson and shows when a lesson or group of lessons will be assessed. It allows teachers to communicate with students, parents, colleagues and school leaders. Weekly plans guarantee that mathematics and reading will be taught every day as it allows you to manage your curriculum throughout the year.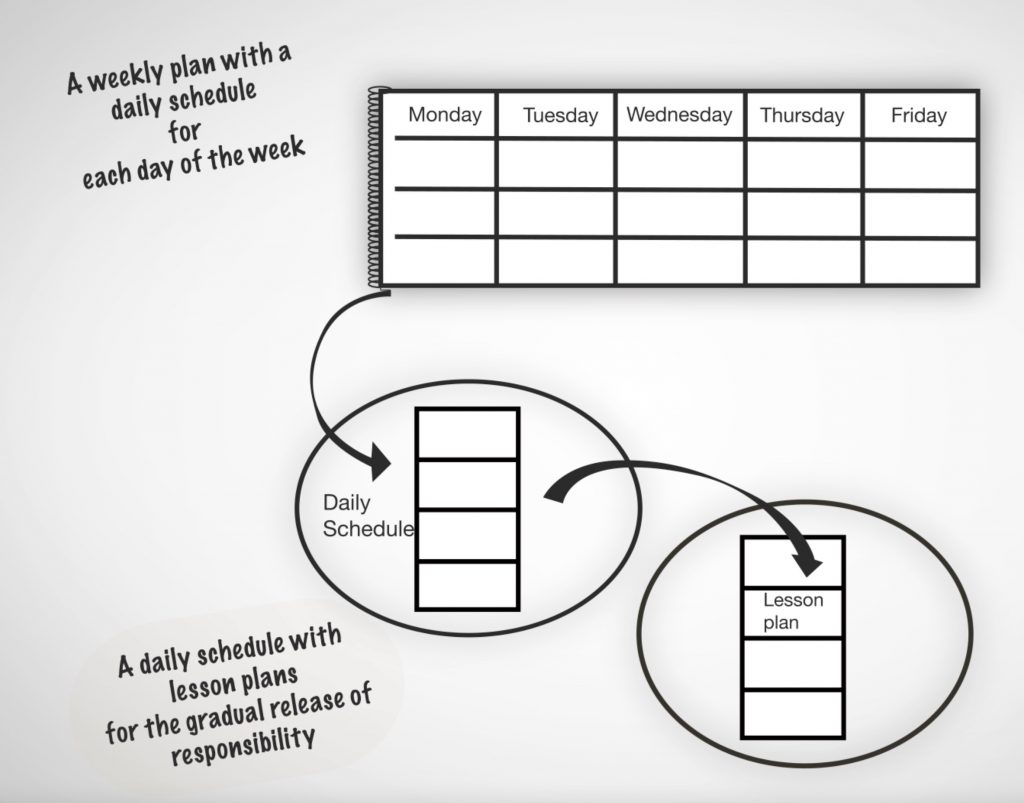 Morning Messages
Routines are the backbone of a school day. One routine to begin the school day is a morning message because it provides a predictable, friendly start to the day. A morning message welcomes the students and helps the students know you care about them and are happy to see them. A morning message is a routine that can give daily practice in reading and reinforce academic skills.
Lesson Plans
To plan a school day, an effective teacher writes a daily schedule with lesson plans for the gradual release of responsibility. Lesson plans can be adjusted, saved, used again and shared among colleagues. Well-written lesson plans reflect the potential ability of the students by stating the objective or learning outcome for the lesson. It includes a set of detailed instructions with the materials that will be needed for each lesson.
Benefits
Frameworks are developed at the highest level like the country or state to include standards of what will be taught at every grade level.
Districts or regions develop, implement and evaluate the curriculum while setting goals to align with the frameworks.
Schools develop programs that align with those goals. Effective schools provide staff development for teachers who use teach the curriculum.
A teacher enriches the classroom instruction by creating a plan to align with curriculum, helping all students to achieve mastery. Learning how to write a plan is key to effective teaching.
We believe in you!
Lesson planning requires practice, practice, practice! Our professional development seminar program trains teachers to plan for effective classroom instruction. If you are in an English or French-speaking area and want to impact teachers and school leaders in your community email us at scholarships@teachingtrainingtogether.org.

Beth is the President of Teaching Training Together, an organization based in Burlington, Massachusetts, that provides initial training through professional development seminars to underserved school leaders and teachers.